Pro Basic
Elaborate study and research, proof of strength. Yunmai Massage Hammer Pro Basic could be considered as the product of Yunmai's wisdom, after receiving the honor of becoming the 2020 Reddot Winner.
Dual-bearing high-power motor

The Yunmai Massage Hammer Pro Basic uses a dual-bearing, high-power motor. The stable structure resists abrasion and effectively transmits high-frequency vibrations deep into muscles and connective tissues. The honeycomb structure inside the device provides cushioned protection for the bones during use.

45dB low noise vibration

The brush-less motor is applied with a new generation of noise reduction technology which controls the noise within 45dB.

4 massage heads in liquid silicone

Each device comes with four replaceable massage heads to provide comfortable massage experience for different parts of the body.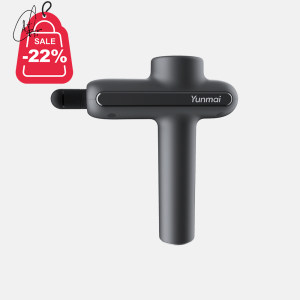 64276555941163063