Running Belt
["Yunmai Sport Pocket can solve the unpleasantness caused by the inconvenience of carrying in a limited space,Free your hands, open a new sports experience.","Sports pocket also has a large capacity"]
Waterproof and wear-resistant
Yunmai adopts high-elasticity water-proof Lycra fabric for the sport pocket, which is sweat-proof and prevents soaking. This allows it to be soft and skin-friendly for every exercise, while keeping it cool and breathable at all times during your exercise. The surface is treated with a special anti-wear treatment, so it will not rub against clothes even when doing high-speed movements. No pulling means it can accompany you to run farther.

Double pockets mean large capacity
The sports pocket also has a large storage capacity. Yunmai's innovative singular double-pocket design solves the trouble of insufficient storage space in the traditional waist bag. All the items needed for going out can now be stored in one waist bag.

Night protection
Special printing technology has been used for the zipper and the main storage section, which will reflect when encountering a light source. It can act as a warning sign and can be a source of protection at night. The safety of every those sporting at night is protected by Yunmai.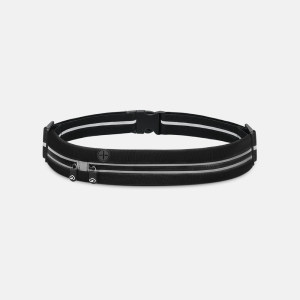 64298061870014507