Slim Chic
To wake up muscles, Yunmai Massage Hammer Slim Chic is enough.
Strong, powerful high-frequency vibration stimulation can penetrate deep into fibrous tissue. While kneading muscles nodules and preventing muscle adhesion, it can relax tight and rigid muscle tissues as well as greatly reduce pain and discomfort after exercise.
Lighter body better performance
Yunmai Massage Hammer Slim Chic is equipped with smaller and lighter high-performance motor, which only weight 0.8 kg. It make SC is easy to pick up for women or elder people.

45dB low noise vibration
The brush-less motor is applied with a new generation of noise reduction technology which controls the noise within 45dB.
Each device comes with four replaceable massage heads to provide comfortable massage experience for different parts of the body.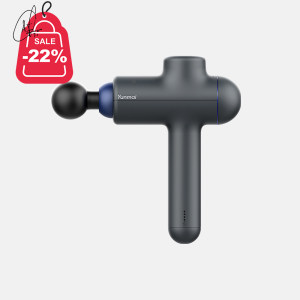 64279580340531262