Slim Elegant
A deep professional dual model massage unlike any others, daily relaxing or stretching after sports, High performance with long endurance
Innovative five-speed dual mode

With the intelligent electronic control interactive system, you can enjoy an exceptional by simply owning one device. The two modes are perfectly suitable for every situation whether that is daily relaxing or stretching after sports. Whenever you need a massage, Yunmai is here for you.

84 days long-stand battery life with wireless charging
Yunmai has selected a 2900mAh long durable storage lithium battery as an abundant and lasting power source. In combination with wireless handheld design, a carefree massage experience offered by Yunmai.

45dB low noise vibration

The brush-less motor is applied with a new generation of noise reduction technology which controls the noise within 45dB.

4 massage heads in liquid silicone

Each device comes with four replaceable massage heads to provide comfortable massage experience for different parts of the body.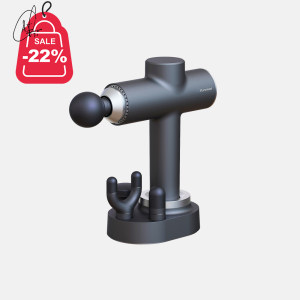 64273158898855984